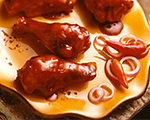 Prep: 10 min
Cook Time: 1 hr 10 min
Total: 1 hr 20 min
Serving: 3 dozen
This sweet and savory apricot glaze will have you lickin' your fingers after eating these delicious drums.
Ingredients
1 tablespoon butter
3/4 cup chopped onion
2 teaspoons finely chopped fresh garlic
1/3 cup soy sauce or teriyaki sauce
1/4 cup firmly packed brown sugar
1/4 cup dark molasses
1/4 cup honey
1 (14-ounce) bottle (1-1/3 cups) ketchup
1/4 teaspoon crushed red pepper
1/2 teaspoon Worcestershire sauce
3 drops hot pepper sauce
1 (12-ounce) jar apricot preserves
3-1/2 pounds chicken drumettes
Directions
Place the butter in a large sauté pan over medium heat, and add the onion and garlic once the butter begins to sizzle.
Sauté the mixture for 4 minutes and then add the soy sauce, sugar, molasses, honey, ketchup, red pepper, Worcestershire sauce and hot pepper sauce.
Cook the mixture over low heat for 20 minutes, stirring occasionally to prevent sticking, and then set aside to cool.
Meanwhile preheat the oven to 400 degrees and spray a baking sheet with cooking spray.
Once cool, add the apricot preserves and stir to combine.
Pour the sauce over the chicken drums in a large bowl and stir to coat. Place the drums on the prepared cooking sheet, and bake for 50 minutes.