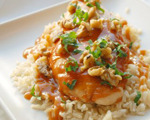 Prep: 10 min
Cook Time: 25 min
Total: 35 min
Serving: 4 Servings
Apricot preserves and Dijon mustard make a sweet and savory glaze for roast chicken. Serve it over rice, garnished with chopped, toasted hazelnuts and fresh parsley.
Ingredients
1/3 cup apricot preserves
2 tablespoons ketchup
1 tablespoon Dijon mustard
1/2 teaspoon ground ginger
4 boneless, skinless chicken breasts
1/4 cup toasted hazelnuts, chopped
4 tablespoons finely chopped parsley
1 (6 ounce) box long grain mix
olive oil to grease baking dish
Directions
Cook the rice according to package directions.
In the meantime, preheat your oven to 400 degrees F and grease a baking dish with olive oil.
Place the apricot preserves, ketchup, mustard and ginger in a bowl and whisk vigorously until blended.
Place the chicken into the prepared baking dish and cover on both sides with the apricot mixture.
Roast the chicken for 25 minutes and then serve on a bed of rice garnished with the hazelnuts and parsley.