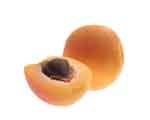 Prep: 20 min
Cook Time: 50 min
Total: 1 hr 10 min
Serving: 12 People
This sweet and moist apricot bread goes well with breakfast. Or for sharing with family and friends.
Ingredients
1 cup dried apricots, chopped
1 egg
1/2 cup orange juice
1 cup sugar
2 tablespoons butter, melted
2 cups flour
2 teaspoons baking powder
1/4 teaspoon baking soda
1/4 teaspoon salt
1/2 cup water
1 cup chopped nuts
Directions
Mix together apricots, egg, orange juice, sugar, butter, flour, baking powder, baking soda, salt, water and nuts. Blend well.
Pour mixture into prepared loaf pan.
Bake at 350 degrees for 40-50 minutes.