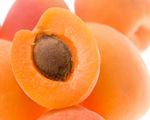 Prep: 10 min
Cook Time: –
Total: 10 min
Serving: 6
This vibrant nutrient-rich salad is a refreshing accompaniment to anything grilled. Take it to your next outdoor gathering and garner rave reviews (transport apricot mixture and greens separately and toss right before serving).
Ingredients
1 1/2 pounds ripe but firm apricots, pitted, chopped into 1 inch pieces
1, 6-ounce medium red onion, halved, thinly sliced (about 1 cup)
1/4 cup seasoned rice vinegar
Juice of 4 limes (about 1/2 cup)
2 teaspoons minced fresh gingerroot
1 serrano chile, cut lengthwise*
*The chile is used effectively for flavor, and will eventually be removed so there is no real need to remove the seeds.
3/4 cup cinnamon basil leaves, rolled, thinly sliced
6 cups mixed salad greens
Black pepper to taste
Directions
Combine all the ingredients in a large bowl.
Cover bowl and refrigerate apricot mixture for at least 1 hour or up to 6 hours to marry flavors.
When ready to serve, remove chile from apricot mixture and stir in basil.
Place mixed salad greens on a serving platter or in a large serving bowl.
Spoon the juices from apricot mixture over greens, season with black pepper, and toss.
Top greens with apricot mixture and serve immediately.