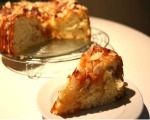 Prep: 10 min
Cook Time: 35 min
Total: 45 min
Serving: Serves 10 people
A traditional dessert recipe, Apricot & Cream Cheese Coffee Cake is also great served for a special brunch.
Ingredients
Non-stick cooking spray
1 cup apricots, thinly sliced (plus additional 1/4 cup for topping)
1-1/4 cups all-purpose flour
1-1/4 teaspoons baking powder
1 teaspoon fresh lemon zest
1/4 teaspoon baking soda
1/4 teaspoon salt
3/4 cup granulated sugar
3 tablespoons butter, softened
1/4 cup egg substitute
1 teaspoon vanilla extract
1/2 cup buttermilk
2 ounces reduced-fat cream cheese
1/4 cup granulated sugar
2 tablespoons egg substitute
Powdered sugar to top
Directions
Preheat your oven to 375 degrees F. Spray a 9 x 1-1/2-inch round baking pan with the non-stick cooking spray. Using a medium-sized bowl, mix together the flour, baking powder, lemon zest, baking soda and salt.
Using a different medium-sized mixing bowl, beat the 3/4 cup sugar and butter with a mixer on medium-to-high speed until combined. Add the 1/4 cup egg substitute and vanilla. Mix on low-to-medium speed for about 1 minute. Add the flour mixture and buttermilk to the egg mixture, beating until combined. Pour this mixture in the baking pan.
Using a small-sized mixing bowl, beat the cream cheese and 1/4 cup sugar on medium-to-high speed, until mixed together well. Add the 2 tablespoons egg substitute. Beat until mixed together. Put 1 cup of the apricot over the batter in the pan. Add the cream cheese mixture over the top. Bake for about 30-35 minutes (or until a toothpick inserted into the middle of the cake comes out clean). Cook on a wire rack. Top with the reserved apricots and dust with the powdered sugar. Serve warm.