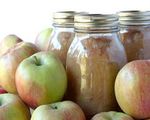 Prep: 30 min
Cook Time: 15 min
Total: 45 min
Serving: 12
This one is perfect for entertaining or Sunday breakfasts with the family.
Ingredients
1 1/2 cups whole wheat flour
1 T. baking powder
3/4 cup unsweetened applesauce
1 cup non-fat buttermilk
2 egg whites, lightly beaten
Directions
Combine the flour and the baking powder in a medium bowl.
Mix well, and then stir in the applesauce, buttermilk, and egg whites.
Coat a large skillet with non-stick cooking spray (or a griddle, if you choose), and preheat over medium heat.
Pour 1/4 cup of batter onto the griddle, and spread into a 4-inch circle to make each pancake.
Cook for 1 minute and a half.
Turn and cook until the second side is golden brown. Enjoy! They're delicious.