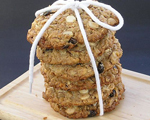 Prep: 30 min
Cook Time: 13 min
Total: 43 min
Serving: Makes 3-1/2 dozen cookies
Shhh! Don't tell your kids but these cookies are packed with fiber and are lower in fat than traditional cookies. The applesauce replaces the need for more butter and the oatmeal and granola make them a healthy alternative.
Ingredients
1 cup packed brown sugar
1/2 cup butter, softened
1 teaspoon vanilla
1 egg
1/2 cup applesauce
2 cups all-purpose flour
2 cups granola
1/2 teaspoon baking soda
1/2 teaspoon salt
Directions
Preheat oven to 375 degrees.
In a large bowl, beat the brown sugar, butter, vanilla and egg. Use an electric mixer of mix with a spoon.
Stir the applesauce into the mixture and then add the remaining ingredients. Mix well.
On an ungreased cookie sheet, drop rounded tablespoons of dough about two inches apart. Bake for 11 to 13 minutes or until cookie center does not leave indentation when touched. Remove and cool the cookies on a wire rack before serving.