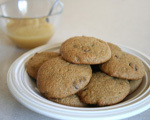 Prep: 10 min
Cook Time: 12 min
Total: 22 min
Serving: Makes 4 dozen cookies
These soft cookies make a cozy afternoon snack, especially alongside a hot cup of coffee.
Ingredients
1 cup brown sugar
1 egg
3/4 cup butter, softened
1 cup applesauce
2-1/2 cups flour
1/2 teaspoon baking soda
1/2 teaspoon salt
1/2 teaspoon cinnamon
1/2 teaspoon nutmeg
1 cup chopped nuts
1 cup raisins
Directions
Cream brown sugar, butter and egg; set aside.
Combine flour, baking soda, salt, cinnamon and nutmeg.
Blend flour combination into egg mixture.
Fold in applesauce, nuts and raisins; mix well.
Drop by teaspoon onto greased cookie sheets.
Bake at 325 degrees for 10-12 minutes.