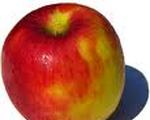 Prep: 3 hr 15 min
Cook Time: 25 min
Total: 3 hr 40 min
Serving: 12
Applesauce Cinnamon Rolls are tender and moist and have a sweet applesauce filling.
Ingredients
4 cups flour
1 package active dry yeast
3/4 cup applesauce
1/2 cup milk
2 tablespoons sugar
2 tablespoons butter
1/2 teaspoon salt
1 egg, beaten
Filling: 1/4 cup applesauce
1/3 cup sugar
2 teaspoons ground cinnamon
1 cup confectioner's sugar
1/2 teaspoon vanilla
1 tablespoon milk
Directions
Preheat oven to 350 degrees F. Spray two 9 inch round pans with cooking spray.
In a large bowl, combine 1 1/2 cups flour and yeast. In a small saucepan combine 3/4 cup applesauce, milk, 2 tablespoons sugar, butter and salt. Heat over medium heat and stir just until warm (120 degrees F to 130 degrees F) and butter is almost melted. Add to flour mixture along with the egg. Beat with an electric mixer on low speed for 30 seconds, scraping bowl constantly. Beat on high for 3 minutes, using a spoon to stir in 2 1/4 cups flour.
Turn dough out onto a lightly floured surface. Knead in enough remaining flour to make a moderately soft dough tht is smooth and elastic, 3 to 5 minutes. Shape dough into a ball. Place dough in a bowl sprayed lightly with cooking spray; turn dough once to grease surface. Cover and let rise in a warm place until doubled in volume, about 1 hour.
Punch dough down, turn out onto a lightly floured surface. Cover and let rest 10 minutes. On lightly floured surface, roll dough to a 12 inch square. Spread 1/4 cup applesauce. Combine 1/3 cup sugar and cinnamon; sprinkle over dough. Roll up and seal seams. Slice dough into 12 pieces.
Arrange 6 rolls, cut side down, in each pan. Cover and let rise in a warm place until nearly doubled, about 30 minutes.
Bake 20 to 25 minutes or until golden. Invert onto serving plate. Drizzle with a mixture of confectioner's sugar, vanilla and milk. Serve warm.