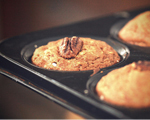 Prep: 20 min
Cook Time: 15 min
Total: 35 min
Serving: Makes 12 muffins
Because the apples in this recipe render their juices with the sugar and eggs, a more flavorful muffin is produced.
Ingredients
1-1/2 cups all-purpose flour
2 teaspoons baking powder
1-1/2 teaspoons ground cinnamon
1 teaspoon baking soda
1/2 teaspoon salt
2 large eggs
3/4 cup sugar
1-1/2 cups packed coarsely grated apples (about 2 medium), with their juice
5 tablespoons melted unsalted butter
1/2 cup coarsely chopped walnuts and 12 whole walnuts
Directions
Preheat the oven to 400 degrees and grease a 12-cup muffin tin with butter or oil.
In a large bowl, add the flour, baking powder, cinnamon, baking soda and salt, and whisk together to blend.
In another bowl, whisk the eggs and the sugar with a fork and then add in the apple and let stand for at least 10 minutes.
Pour in the butter and then sprinkle in the chopped walnuts. Stir well to combine but do not over mix.
Spoon the batter into the muffin tin and top each muffin with a whole walnut. Bake for 15 minutes or until a toothpick inserted into the center of a muffin tests clean. Let the muffins cool for 3 minutes before serving.