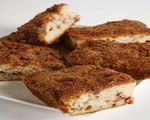 Prep: 45 min
Cook Time: 50 min
Total: 1 hr 35 min
Serving: 18
One of my favorites
Ingredients
Streusel topping:
1 cup walnuts, chopped
2/3 cup flour
1/4 cup packed brown sugar
4 tablespoons butter or margarine, not softened
1 teaspoon cinnamon
Cake:
3 medium Delicious apples
sugar
1 cup margarine or butter, softened
1 16-oz container sour cream
2 1/2 cups flour
1 tablespoon baking powder
2 teaspoons baking soda
2 teaspoons vanilla
4 large eggs
Directions
Prepare streusel topping by combining the ingredients in a small bowl and kneading, with your hands, into large chunks. Set aside.
Peel and slice apples, then toss in a small bowl with 2 tablespoons of sugar. Set aside.
Grease 10"x14" roasting pan. Preheat oven to 350F.
In a large bowl, beat butter with 1 1/2 cups of sugar (use medium speed) until light and fluffy. Add sour cream and all remaining ingredients, then beat at low speed until product is well-blended. Beat at medium speed for one minute.
Spread batter in the pan. Arrange apple slices on top, making sure to place them right to the edges of the pan, so the batter won't rise up to cover them.
prinkle with streusel topping and bake for 45-50 minutes until cake pulls away from the sides of the pan. Cool for at least 10 minutes before serving. Notes: Notes: You might want to use a pasteurized egg product in the batter, because this batter is irresistable! Try not to scrape the bowl *too* zealously.