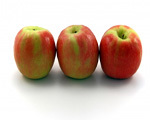 Prep: 10 min
Cook Time: 35 min
Total: 45 min
Serving: 8-10 People
Served with a hot cup of coffee, this spiced cake will make a nice afternoon snack.
Ingredients
3/4 cup butter
3/4 cup brown sugar
1/2 teaspoon cinnamon
3 cups sliced apples
1-1/4 cups flour
1 cup sugar
1-1/2 teaspoons baking powder
3/4 cup milk
1/3 cup shortening
1 egg
1 teaspoon vanilla
Directions
Melt butter, brown sugar and cinnamon; pour into a greased 8x8 baking dish.
Place sliced apples in brown sugar mixture and stir until apples are coated.
Mix together flour, sugar, baking powder, milk, shortening, egg and vanilla; spread over apples.
Bake at 350 degrees for 35 minutes.
Let cool for 20 minutes before turning over onto a serving plate.