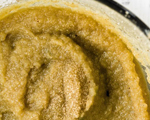 Prep: –
Cook Time: 15 min
Total: 15 min
Serving: 4 to 6 servings
This sauce works wonderfully with grilled fish. Spoon it right over the hot fish to infuse the flavors and serve immediately.
Ingredients
1/4 cup apple cider or juice
1/4 cup white wine
1/4 cup clam juice
1 tablespoon minced shallots
6 tablespoons chilled unsalted butter, sliced thin
4 tablespoons julienned Granny Smith apple
2 teaspoons chopped fresh tarragon
Directions
Combine the apple cider, wine, clam juice and shallots in a medium saucepan over moderate-high heat, and bring to a boil.
Once the mixture is boiling, reduce the heat to medium-low, and simmer for 7 minutes until mixture is reduced.
Using a whisk, drop in the butter slices and whisk continuously to incorporate until butter is totally melted. Stir in the apples and tarragon and add a few pinches of salt and freshly ground black pepper. Serve immediately with grilled fish.