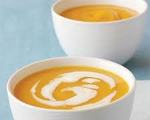 Prep: 15 min
Cook Time: 1 hr 10 min
Total: 1 hr 25 min
Serving: 6 Servings
Healthy and easy to make, this apple squash soup will surely warm you up on a crisp fall day.
Ingredients
3 acorn squash, halved with seeds removed
3 tbsp olive oil
2 carrots, peeled and chopped
1 Granny Smith apple, cored and chopped
1 onion, chopped
1/4 tsp ginger
1/8 tsp allspice
1/2 tsp cinnamon
4 cups low-sodium vegetable broth
6 dollops of low-fat sour cream (optional)
Directions
Preheat oven to 400 F. On a baking sheet sprayed with cooking spray, roast the acorn squash for about 45 minutes with the cut side down until soft. When cool enough to be handled, scoop out the squash flesh and set aside.
In a large soup pot, heat olive oil over medium high heat and saute carrot, onion, and apple until soft and golden brown. Season with cinnamon, ginger, and allspice.
Add the squash and the vegetable broth and let simmer for 15 to 20 minutes.
Remove pot from the heat and puree everything in a blender or food processor until smooth. Top with a dollop of sour cream and serve immediately.