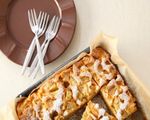 Prep: 20 min
Cook Time: 1 hr 10 min
Total: 1 hr 30 min
Serving: 16
This one is a family favorite. Grandma makes this every Thanksgiving morning and the aroma of it baking fills the whole house. My family and I love it!
Ingredients
4-1/2 cups flour
3 cups applesauce
2 cups raisins
2 cups chopped nuts
2 cups sugar
1 oz. Unsweetened chocolate, grated
2 t. baking soda
1 cup corn oil
1 t. cinnamon
1/2 t. nutmeg
1/2 t. allspice
1/4 t. ground cloves
1/2 t. salt
Directions
Sift together flour, soda, spices and salt in a large bowl.
Mix in applesauce and corn oil.
Stir in nuts and raisins.
Stir in grated chocolate.
Grease and flower a 13x9x2 pan; pour in mixture.
Preheat oven to 350 deg F (175 deg C).
Bake the cake for 1 hr. 10 min. or until brown.
Cool on a cake rack and enjoy!