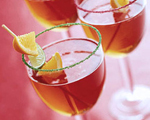 Prep: 15 min
Cook Time: –
Total: 15 min
Serving: 5 Servings
A refreshingly light non-alcoholic beverage that can be served in the fall during apple season or at holiday festivities for kids and adults alike.
Ingredients
1 tablespoon red or green colored sugar
10 unpeeled orange wedges
5 unpeeled lime wedges
2/3 cup raspberry juice blend
1 750 ml bottle sparkling apple cider or sparkling pear-apple juice, chilled
Directions
Place some colored sugar on a piece of wax paper.
Carefully moisten the rims of 5 wine glasses with the cut side of one of the lime wedges, and then dip in the sugar to coat. Set the glasses aside for 10 minutes so the sugar can set.
Evenly divide the raspberry juice into each glass, and then slowly add the sparkling apple cider.
Garnish each glass with some orange and lime wedges and serve.