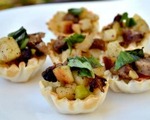 Prep: 6 min
Cook Time: 14 min
Total: 20 min
Serving: 8-10 People
There's no reason you can't eat stuffing all year around! Instead of preparing it the traditional way, serve it with maple roasted sausage, fresh apple and basil in a bite-size phyllo shell for a healthy and delectable appetizer!
Ingredients
12 mini phyllo shells, pre-baked
1 cup herbed stuffing mix
1/2 celery stalk, finely chopped
3 maple sausage links
1/2 medium apple, chopped
1 basil leaf, chopped
1/8 teaspoon sea salt
1/8 teaspoon crushed red pepper
1/3 cup chicken broth
1 tablespoon extra virgin olive oil
1 small onion, finely chopped
Directions
In a medium pan, heat olive oil. Add chopped onion and celery. Cook until soft and browned, about three to four minutes. Add stuffing mix, basil, salt, red pepper and broth. Take off heat and set aside.
In another small pan, cook sausage until fully heated, about five to six minutes. Take off heat and let cool.
Once sausage has cooled, chop into tiny pieces and add to stuffing mixture.
Carefully spoon about one tablespoon of stuffing mixture into each phyllo shell, filling to the brim. Season with additional basil and enjoy!