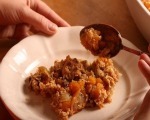 Prep: 15 min
Cook Time: 2 hr
Total: 2 hr 15 min
Serving: Serves about 8 people
This fun dessert is perfect for the fall season. Apple Pumpkin Surprise makes a great Halloween or Thanksgiving treat.
Ingredients
One medium-large pumpkin with a good stem on top (used as handle)
4 cups of sweetened apples
1/2 cup of raisins or dried cranberries
1 teaspoon of ground cinnamon
1/2 teaspoon of ground nutmeg
1/2 teaspoon ground cloves
1/8 teaspoon of ground ginger
1/2 cup of chopped walnuts
Vanilla or cinnamon ice cream to accompany dessert
Salt to taste
1 pat of butter to spread inside the pumpkin
Directions
Cut the top off the pumpkin so that you can place the small top back on later as a lid. Clean out the pumpkin seeds and butter and salt the inside of the pumpkin.
Mix the apples, raisins or cranberries, spices and walnuts together and place the mixture in the pumpkin. Put the lid back on the pumpkin. Place the pumpkin on a baking sheet. Wrap the pumpkin stem in aluminum foil.
Make sure the pumpkin (on the baking sheet with the lid on) can be placed in the oven so the stem of the pumpkin isn't touching any part of the oven.
Bake the pumpkin and the mixture at 350 degrees for about 2 hours, stirring all the ingredients about an hour into baking.
Serve the apple mixture over ice cream.