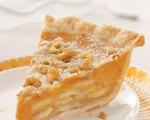 Prep: 10 min
Cook Time: 50 min
Total: 1 hr
Serving: 1 Pie
Looking for something different this fall? Try this apple pumpkin pie next time you're looking for a treat!
Ingredients
3 cups thinly sliced, peeled, cored apples
3/4 cup canned pumpkin
1 large egg
1/3 cup granulated sugar
1/3 cup firmly packed brown sugar
1 tablespoon cornstarch
1/2 teaspoon ground cinnamon
1/2 teaspoon ground nutmeg
1 teaspoon pumpkin pie spice
1/3 cup water
2 tablespoons butter
1/4 teaspoon salt
1 (9-inch) unbaked pie crust
Directions
Preheat oven to 425 F. In a large saucepan over medium heat, combine brown sugar, cornstarch, 1/2 teaspoon cinnamon and 1/4 teaspoon salt. Stir in water and butter. Continue cooking and stir constantly until mixture begins to boil. Add apples and cook for 4 minutes. Then remove from heat and set aside.
In a large mixing bowl, combine pumpkin, sugar, egg, 1/2 teaspoon cinnamon, 1/4 teaspoon salt, nutmeg and pumpkin pie spice. Beat until well blended using a hand mixer on low.
Pour apple mixture into unbaked pie crust. Spoon an even layer of pumpkin mixture over apple mixture. Top pie with brown sugar crumbs if desired. Bake 10 minutes then reduce oven temperature to 375 F and continue baking for another 40 minutes or until filling is set around edge and a knife inserted in center comes out clean. Cool on a wire rack before serving.