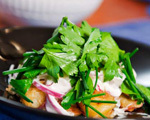 Prep: 15 min
Cook Time: 20 min
Total: 35 min
Serving: 4 Servings
Traditional potato salad is given an extra kick of flavor with the addition of sautéed apples in butter.
Ingredients
1/2 cup olive oil
4 Idaho potatoes, washed and cut into 1/2-inch pieces
1 medium red onion, halved and thinly sliced
2 cloves garlic
1 1-inch piece of ginger
2 tablespoons chopped skinless almonds
2 Granny Smith apples, quartered, cored, and thinly sliced
1/4 cup freshly squeezed lemon juice
2 tablespoons drained capers
2 tablespoons mayonnaise
2 tablespoons sour cream
2 tablespoons chopped parsley
1 tablespoon finely chopped fresh chives
salt and pepper to taste
1/2 cup cubed Parmesan cheese
2 tablespoons butter
Directions
Place the mayonnaise and sour cream in a medium-sized bowl and mix together to blend. Add 1/2 of the sliced apples, 1/2 on the onion, the lemon juice, Parmesan cheese, capers and a pinch of salt and pepper, and toss the mixture to combine.
Place the oil in a large sauté pan over medium heat; add the potatoes and sauté for 10 minutes.
Stir in the remaining onion, the garlic, ginger, and almonds and sauté the mixture for 5 minutes before adding the remaining apples and butter and sautéing for an additional 3 minutes.