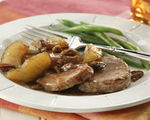 Prep: 10 min
Cook Time: 10 min
Total: 20 min
Serving: 4
When you are looking for a hearty meal that is easy to make, consider this tenderloin recipe. Serve this yummy dish with garlic mashed potatoes, steamed vegetables and cheese biscuits. This recipe is sponsored by the National Pork Board.
Ingredients
1 pound pork tenderloin
2 tablespoons butter
1 (16 ounce) can sliced apples, drained
1/4 cup packed brown sugar
1/2 cup chopped pecans
Directions
Trim fat from pork. Cut pork into 1/2-inch-thick slices.
Melt butter in a large skillet over medium-high heat until it sizzles. Reduce heat to medium.
Arrange pork slices in skillet. Cook for 2 minutes; turn slices.
Spoon apples over pork. Sprinkle with brown sugar and pecans. Cover and cook for 4 to 6 minutes more.