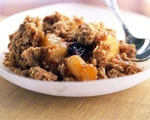 Prep: 30 min
Cook Time: 55 min
Total: 1 hr 25 min
Serving: Makes 1, 9x12x2 dessert
This dessert is ideal for a crisp and cool autumn day, served hot out of the oven with a scoop of vanilla bean ice cream. Just delicious!
Ingredients
4 pears
6 apples
3/4 cup dried cranberries
1 teaspoon grated orange zest
1 teaspoon grated lemon zest
2 tablespoons freshly squeezed orange juice
2 tablespoons freshly squeezed lemon juice
1/2 cup granulated sugar
1/4 cup all-purpose flour
1 teaspoon ground cinnamon
1/2 teaspoon ground nutmeg
1-1/2 cups all-purpose flour
3/4 cup granulated sugar
3/4 cup light brown sugar, lightly packed
1/2 teaspoon kosher salt
1 cup old-fashioned oatmeal
1/2 pound (2 sticks) cold unsalted butter, diced
Directions
Preheat the oven to 350 degrees.
Rinse off the apples and pears, peel and core them, and then cut into large chunks.
In a large bowl, add the apples, pears, cranberries, zest, juices, 1/2 cup granulated sugar, flour, cinnamon and the nutmeg. Toss well unit all the ingredients are well mixed and then empty into a 9x12x2-inch baking dish.
In a food processor, mix the flour, sugars, salt, oatmeal, and cold butter on low speed until the mixture is crumbly. Distribute the crumble over the fruit making sure all fruit is covered and none is showing.
Put the baking dish into the oven and bake for 55 minutes.
Remove from oven, scoop out crisp with a large spoon and serve warm with ice cream.