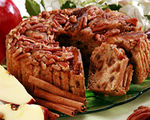 Prep: 30 min
Cook Time: 55 min
Total: 1 hr 25 min
Serving: 12
Serve this cake with vanilla ice cream, and sprinkle with finely-chopped, toasted pecans.
Ingredients
1 cups flour
1 1/2 cups of white sugar
2 teaspoons of baking powder
5 big apples
1/2 cup pecans, chopped
1 cup of white sugar
2 Tablespoons of cinnamon
3 sticks of butter
2 eggs
1 cup of evaporated milk
Directions
Melt butter in the microwave and let it cool completely.
In a bowl eat butter with eggs and evaporated milk. Add flour, 1 1/2 cups sugar and baking powder.
Beat the mix until it is fully incorporated.
Grease and flour a pan.
Place peeled and sliced apples on the bottom.
In a bowl combine the nuts, 1 cup sugar and cinnamon.
Pour half of this mixture over the apples.
Pour the butter, eggs and flour mixture on top of that mixture.
Then pour the other half of the nuts-sugar-cinnamon mixture on top of that.
Bake at 350 degrees F for 45 to 55 minutes.