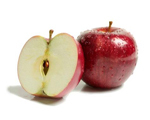 Prep: 15 hr
Cook Time: 1 hr
Total: 16 hr
Serving: Makes 1 loaf
This recipe can be varied by using different nuts and dried fruit.
Ingredients
1 egg
1 cup applesauce
4 tablespoons butter
3/4 cup dark brown sugar
1/4 cup sugar
1-1/2 cups flour
2 teaspoons baking powder
1/2 teaspoon baking soda
1/2 teaspoon salt
1 teaspoon cinnamon
1/2 teaspoon nutmeg
1/2 cup raisins
1/2 cup chopped nuts
Directions
Preheat oven to 350 degrees.
Mix together egg, applesauce, butter and sugars. Set aside.
Combine flour, baking powder, baking soda, salt, cinnamon and nutmeg.
Add egg mixture to flour combination. Fold in raisins and nuts.
Pour batter into prepared loaf pan.
Bake at 350 degrees for 1 hour.