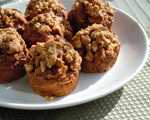 Prep: 10 min
Cook Time: 25 min
Total: 35 min
Serving: 12 People
These sweet muffins make an excellent breakfast treat, especially alongside a hot cup of coffee. The nut-filled streusel topping gives these muffins their crunch.
Ingredients
1-1/2 cups flour
1/3 cup sugar
2 teaspoons baking powder
1/2 teaspoon salt
1/2 cup powdered milk
1 teaspoon cinnamon
1/4 cup shortening, softened
1 egg
1/2 cup water
1 cup finely chopped apples, peeled
1/3 cup brown sugar
1/3 cup chopped nuts
Directions
Combine flour, sugar, baking powder, salt, powdered milk and 1/2 teaspoon cinnamon; set aside.
Cream shortening, egg and water.
Blend flour combination into egg mixture.
Fold in chopped apples.
Pour batter into greased muffin tins.
In a small bowl, mix together remaining cinnamon, brown sugar and nuts until mixture becomes crumbly; sprinkle over top of muffins.
Bake at 375 degrees for 20-25 minutes.