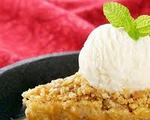 Prep: 15 min
Cook Time: 40 min
Total: 55 min
Serving: 6 Servings
This apple crumble dessert is best with a scoop of vanilla on the side.
Ingredients
6 large apples (2 each of 3 different varieties: Granny Smith, Winesap, Rome Beauty, Stayman, Braeburn) peeled, cored and medium diced
6 tablespoons sugar, divided
3/4 cup all-purpose flour
6 tablespoons cold butter, cut into pieces
1/3 cup brown sugar
1 teaspoon ground cinnamon
1 lemon, juiced
1 pint vanilla ice cream
Directions
Preheat oven to 400 F. Place the apples and just 3 tablespoons of sugar into a saucepan and cook over medium heat for approximately 10 minutes or until apples begin to soften. Drain them and set aside.
For the crumble topping, combine the remaining 3 tablespoons of sugar, flour, cinnamon and butter in a bowl. Blend gently until the mixture resembles coarse crumbs. Set aside.
Coat the apples with the lemon juice and spoon evenly into a deep baking dish. Top with the crumble mix and sprinkle with the brown sugar. Bake until done, about 30 minutes. Serve with a scoop of vanilla on the side.
NOTE: You may want to place a baking sheet lined with foil under the baking dish to make oven clean up easier.