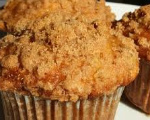 Prep: 15 min
Cook Time: 25 min
Total: 40 min
Serving: 18 muffins
Wonderful apple muffins with a crumb topping.
Ingredients
1 cup chopped pared apples
1 teaspoon lemon juice
1 1/2 cups all-purpose flour
1 cup whole wheat flour
1/2 cup firmly-packed dark brown sugar
4 teaspoons baking powder
1/2 teaspoon salt
1 cup milk
1 egg
1/4 cup margarine, melted
2 tablespoons granulated sugar
1/2 teaspoon ground cinnamon
Directions
Preheat oven to 400 degrees Fahrenheit. Grease 18 muffin cups.
In a small bowl coat the apples with the lemon juice.
Mix together the flour, whole wheat flour, brown sugar, baking powder and salt in a medium bowl.
In another small bowl, whisk together the milk, egg and margarine. Pour over the flour mixture. Add in the apples, stirring gently until the dry ingredients are well moistened.
Combine the granulated sugar and cinnamon.
Scoop the batter into the prepared muffin cups. Sprinkle with the cinnamon sugar. Bake for 25 minutes, or until browned.