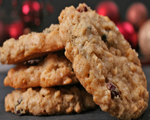 Prep: 15 min
Cook Time: 12 min
Total: 27 min
Serving: Makes 6 dozen cookies
These chewy cookies make a cozy afternoon snack, especially alongside a hot cup of coffee. Consider baking a batch to share with a friend or neighbor.
Ingredients
1 cup butter, softened
1-1/2 teaspoons cinnamon
1-1/2 teaspoons baking soda
2 cups brown sugar
2 cups applesauce
2 cups flour
6 cups quick-cooking oats
1-1/2 cups dried cranberries
Directions
Cream butter, cinnamon, baking soda and brown sugar.
Stir in applesauce, flour and oats.
Fold in dried cranberries.
Cover and refrigerate dough for 1 hour or until dough is firm enough to handle.
Preheat oven to 350 degrees.
Drop by teaspoon onto greased baking sheets.
Bake at 350 degrees for 10-12 minutes or until golden brown.