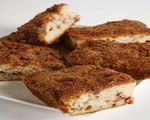 Prep: 25 min
Cook Time: 1 hr 45 min
Total: 2 hr 10 min
Serving: 10
Cake made of coffee and mixed with apples.
Ingredients
5 cup apples, peeled and chopped
2 1/2 cup sieved all purpose flour
1 cup sugar
1/2 cup pecans, chopped
2 tsp vanilla
1 beaten egg
1 1/2 tsp baking soda
2 tsp cinnamon, ground
1 cup raisins
1/4 cup vegetable oil
Directions
Take a large bowl, add apples, sugar, pecans and raisins in it. Mix well. Set aside for half an hour.
Take another bowl, add vanilla, egg, soda, cinnamon and flour. Mix well.
Slowly slowly add apple mixture into it. Mix well until smooth batter is formed.
Preheat the oven to 350 degrees F.
Take a pan and oil it.
Pour the batter into pan and bake it for 35 to 40 minutes.
Serve warm.