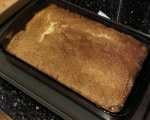 Prep: 30 min
Cook Time: 30 min
Total: 1 hr
Serving: 15 people
An old family recipe for apple cobbler, delicious and heart warming. Perfect with a scoop of ice cream. You can replace the apples for the fruit of your choice.
Ingredients
1 stick of butter (1/2 cup)
3 granny smith apples
3 golden deliscious apples
1 cup white sugar
1 cup flour
2 teaspoons baking powder
pinch of salt
1 tablespoon of vanilla
ground cinnamon
1 scant cup of milk (not quite full)
Directions
Preheat oven to 425 degrees Fahrenheit. Cut the stick of butter into slices and add to the bottom of a glass 9 by 13 pan. Add to the oven while preheating to melt the butter.
Wash and peel apples. Core and then slice them. It should equal to about a quart of fruit.
Add to a saucepan and add about 2 cups of water. Cook until nice and juicy, covering if you like. Add a few dashes of cinnamon and allow to cook for a little longer. Apples should retain their shape, but be soft.
In a small bowl combine the flour, sugar, baking powder, salt, milk and vanilla. Add a dash of cinnamon if desired. Mix well.
Scoop apples into the dish of melted butter, add as much of the juice as you desire, making sure to not float the apples.Cover the apples with your topping, using a spatula to spread it around.
You may add an additional cup of white sugar sprinkled over the top of you desire.
Cook for 20-30 minutes, until brown. To prevent bubbling over, it is recommended to place a cookie sheet under pan. Remove and allow to cool slightly before serving.