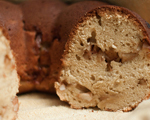 Prep: 25 min
Cook Time: 1 hr
Total: 1 hr 25 min
Serving: Makes 1 bundt cake
The perfect cake for cool fall weather. Use just-picked apples from the orchard and serve with a warm cup of apple cider and cinnamon.
Ingredients
3 large Macintosh apples, peeled and sliced into thick pieces
2-1/4 cups sugar, divided
1 tablespoon cinnamon
1-1/2 cups all-purpose flour
1-1/2 cups whole wheat flour
1 tablespoon baking powder
1 teaspoon salt
1 cup olive or canola oil
1 tablespoon vanilla
1/2 cup apple juice
6 large eggs, beaten
Directions
Preheat oven to 350 degrees. Grease a bundt pan with olive oil, butter or cooking spray; set aside.
Combine apples, 1/4 cup of the sugar and the cinnamon in a large bowl. Mix well so apples are coated.
In another bowl, combine the remaining 2 cups sugar, flour, baking powder and salt and mix with a wire whisk. In the middle of the flour mixture, make a well and pour in oil, vanilla, apple juice, and eggs. Fold in wet ingredients carefully until just combined with flour mixture.
Pour approximately one half of the batter into the bundt pan, and then top with the apples. Make sure that the apples do not touch the sides of the pan. Pour in the remaining batter on top of the apples.
Bake cake for approximately 1 hour or until toothpick inserted into the cake comes out clean. Cool for 15 minutes then flip bundt pan onto plate.