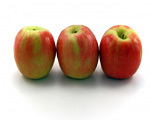 Prep: 25 min
Cook Time: 1 hr
Total: 1 hr 25 min
Serving: 8-10 People
During the Fall months, consider serving this delicious Apple Cake with hot chocolate or warm apple cider.
Ingredients
2 cups apples, finely chopped
1 cup sugar
1 egg
1 cup flour
1-1/2 teaspoons cinnamon
1 teaspoon baking soda
3/4 cup chopped nuts
1 teaspoon vanilla
1/4 teaspoon salt
1/2 cup brown sugar
1/2 cup sugar
2 tablespoons flour
1 stick butter
1 tablespoon vanilla
2 tablespoons water
Directions
Combine apples and 1 cup sugar into a large bowl. Let stand until dissolved.
Add eggs and beat well.
Mix together 1 cup flour, cinnamon, baking soda and salt; add to apples.
Add nuts and 1 teaspoon vanilla.
Pour mixture into a prepared 8x8 baking pan.
Bake at 375 degrees for 40-45 minutes.
In a saucepan, cook 2 tablespoons flour, 1/2 cup sugar and water until clear.
Add butter and 1 tablespoon vanilla.
Cook 3-4 minutes or until butter is completely melted.
Pour over cake while both are hot.
Finish baking cake for 10 minutes.