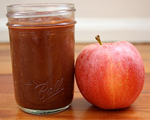 Prep: 10 min
Cook Time: 1 hr 5 min
Total: 1 hr 15 min
Serving: Makes 2-1/2 cups
Surprisingly to most, apple butter does not contain any butter. However, because of its name and the fact that it is used as a spread, people assume butter is one of its major ingredients.
Ingredients
2 cups unsweetened applesauce
1/2 cup sugar
1 teaspoon cinnamon
1/4 teaspoon allspice
Pinch ginger
Pinch cloves
Directions
Place the applesauce, sugar, cinnamon, allspice, ginger, and cloves into a large saucepan and place over medium-high heat.
Once the mixture begins to boil, reduce the heat and simmer for 1 hour.
Cool completely before serving as a spread.