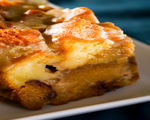 Prep: 20 min
Cook Time: 35 min
Total: 55 min
Serving: 8
This recipe in brought to you courtesy of NRN.
Ingredients
8 eggs, beaten
4 cups milk
8 tbsp. brown sugar, packed
1 tsp. ground cinnamon
1 tsp. vanilla
6 cups bread, cut strips and dry
16 slices apple, cored and sliced
4 tsp. port wine
6 cups milk
2 cups port wine
1-1/3 cups powdered sugar
20 egg yolks
Directions
Apple Bread Pudding:
Preheat oven to 325°F.
Butter soufflé cups and set aside.
Lightly sauté apple slices.
Deglaze the pan with 1 tsp. of port wine and set aside.
Layer the bread and apples in soufflé cups and set aside.
In a stainless bowl, combine eggs, milk, sugar, cinnamon and vanilla.
Whisk until well blended.
Pour egg mixture over bread in cups.
Place in oven and bake 15 - 30 minutes or until knife comes out clean when inserted in center.
Let stand for one minute.
Loosen sides with a paring knife and unmold onto a serving plate and garnish with the Port Crème Anglaise.
Serve warm.
Port Crème Anglaise:
In a sauce pan combine milk, wine, and sugar.
Place pan on burner and scald mixture (do not boil).
Place yolks in a large stainless bowl.
When milk is hot, slowly add to yolks until all the milk is added.
When completely blended, place on ice bath to begin chilling.
After the temperature is down by half, place in the cooler to finish chilling until service.