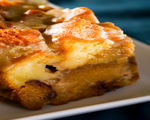 Prep: 30 min
Cook Time: 5 hr
Total: 5 hr 30 min
Serving: 8
This bread pudding will melt in your mouth, it is wonderful.
Ingredients
8 slices raisin cinnamon bread, diced
2 cup milk
2 green apples, peeled and sliced
1/4 cup brandy
1 cup sugar
1 tablespoon brown sugar
1 1/4 cup pecans, chopped
1/4 cup butter, melted
3 eggs
2 tsp. cinnamon
1 tsp. nutmeg.
Directions
Bake pecans in the oven at 350 degrees F on a cookie sheet for 10 minutes.
Stir twice.
Spray a crock pot with non stick spray.
Place bread in crock pot.
Place apples in crock pot and mix with bread.
Add pecans and mix gently.
In a bowl mix cinnamon, nutmeg, both sugars and eggs.
Add the eggs to the bowl and mix well.
Stir in milk and brandy.
Pour mixture over the bread and apples.
Pour melted butter over the mixture.
Cover and cook on low for 4 to 5 hours.