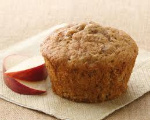 Prep: 15 min
Cook Time: 25 min
Total: 40 min
Serving: 1 dozen
Apple muffins, great for a rushed morning breakfast.
Ingredients
Vegetable oil spray
1 egg
2 tablespoons vegetable oil
2 cups applesauce
2 cups flour
3/4 teaspoon baking soda
1 1/2 teaspoons baking powder
1 teaspoon ground nutmeg
1 1/2 teaspoons ground cinnamon
1/2 cup chopped pitted dates
1/2 cup chopped walnuts
Directions
Preheat the oven to 350 degrees Fahrenheit. Spray or line a 12 cup muffin pan.
Mix together the egg, oil and applesauce. Stir in the flour, baking soda, baking powder, nutmeg and cinnamon until well mixed.
Add in the dates and walnuts.
Spoon into the prepared pan. Bake for 20-25 minutes.