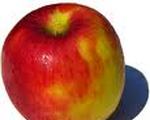 Prep: 15 min
Cook Time: 45 min
Total: 1 hr
Serving: 6
A dollop of fresh whipped cream will add glamour to Apple Betty Boop.
Ingredients
6 medium cooking apples, peeled, cored and sliced
1 1/2 cups moist bread crumbs
3/4 cup sugar
1 1/2 teaspoons cinnamon
1 1/2 tablespoons butter
2 tablespoons grated orange peel
1/3 cup water
whipped cream
Directions
Place half of the apples is a greased 9 inch round Pyrex dish. Combine bread crumbs, sugar and cinnamon; sprinkle one-half over apples and dot with half the butter. Repeat with remaining apples, crumbs and butter. Sprinkle with orange peel, add water and cover.
Bake at 375 degrees F for 45 minutes.