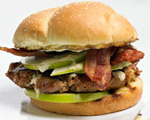 Prep: 15 min
Cook Time: 15 min
Total: 30 min
Serving: 4 Servings
The sweet-tart flavor of green apple pairs wonderfully with the salty taste of sausage and bacon in this thoroughly delicious and hearty burger.
Ingredients
1/2 pound bulk Italian sausage
1/2 pound ground beef
1 small green apple, cored and finely chopped
1 small green apple, cored and thinly sliced
2 tablespoons mayonnaise
1 tablespoon Dijon-style mustard
1 teaspoon honey
4 Kaiser rolls, split and toasted
6 slices bacon
Directions
Place the bacon into a medium-sized skillet and cook until crisp over medium-high heat. Set aside on some paper towels to drain.
Meanwhile, prepare the grill on medium-high heat.
Place the sausage, beef and chopped apples into a large bowl and mix by hand to combine. Shape the mixture into 4 patties and then place on the hot grill for 10 minutes, flipping once halfway through the cooking time.
In the meantime, stir together the mayonnaise, mustard, and honey in a bowl until thoroughly blended, then slather onto the cut sides of the rolls.
Top each roll with a hamburger, bacon and some of the sliced apples. Serve immediately.