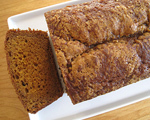 Prep: 10 min
Cook Time: 35 min
Total: 45 min
Serving: Makes 1 loaf
Feel free to use your choice of apple for this comforting, home-style apple and spice bread. Red Delicious apples make a slightly sweeter recipe while Granny Smith apples add an enjoyable hint of tartness.
Ingredients
1 cup shredded apple (1 medium)
1/4 cup sour cream
2 egg whites
1-1/2 cups all-purpose flour
2 tablespoons packed brown sugar
2 teaspoons baking power
1/2 teaspoon baking soda
1/2 teaspoon salt
1/2 teaspoon cinnamon
1/4 teaspoon nutmeg
1/4 teaspoon cardamom
Directions
Preheat your oven to 350 degrees, grease a loaf pan with cooking spray or butter and then lightly dust with flour.
Place the apple, sour cream and egg whites into a bowl and mix well to combine. Add the flour, sugar, baking powder, baking soda, salt, cinnamon nutmeg and cardamom and continue to stir until the mixture is thoroughly blended.
Transfer the batter to the prepared pan and then place in the oven for 35 minutes or until the top of the bread turns golden brown. Allow the bread to cool for 5 minutes before removing from the loaf pan, and then cook completely before serving.