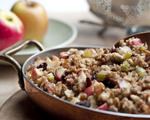 Prep: 5 min
Cook Time: 35 min
Total: 40 min
Serving: 4 Servings
This delicious bread stuffing is made with apples, raisins and cinnamon. Its slightly sweet and seasoned taste pairs extremely well with roast pork tenderloin and poultry.
Ingredients
1/4 cup (1/2 stick) butter
1 stalk celery, chopped (about 1/2 cup)
1 small onion, chopped (about 1/4 cup)
1 can (10 1/2 ounces) condensed chicken broth
4 cup herb seasoned stuffing
1 medium apple, cored and chopped (about 1 cup)
1/4 cup raisins
1/4 teaspoon ground cinnamon
Directions
Place the butter into a large sauté pan over medium heat. Once melted, add the celery and the onion, toss to coat and then cook for 4 minutes.
In the meantime, preheat your oven to 350 degrees.
Pour the broth into the pan and bring to a boil. Once boiling, remove the pan from the heat and stir in the stuffing, apples, raisins and cinnamon. Gently toss the mixture to combine and then transfer to a casserole dish.
Cook the stuffing in the oven for 25 minutes and then serve immediately.