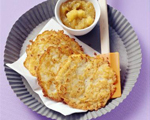 Prep: –
Cook Time: 36 min
Total: 36 min
Serving: Makes about 16 pancakes
Make sure you squeeze as much of the moisture as you can out of the grated potato mixture, in order to get a crispier pancake.
Ingredients
1 pound russet potatoes, peeled, cut into 1 /2-inch pieces
1 medium onion, peeled, quartered
1 2-inch cube peeled celery root
1 medium apple, quartered, cored
1 large egg
1 green onion, finely chopped
1 tablespoon chopped fresh marjoram
3/4 teaspoon salt
1/2 teaspoon ground black pepper
1/4 cup all purpose flour
Olive or vegetable oil (for frying)
Directions
Preheat the oven to 325 degrees and add a baking sheet to warm with oven.
Grate the potatoes, onion, celery root and apple together with a food processor, and then squeeze out as much as the liquid as you can with your hands.
Place the mixture inside a bowl and add the egg, green onion, marjoram, salt, and pepper. Mix well to combine and then sprinkle with some flour. Mix to incorporate.
Heat a large frying pan over medium-high heat with about 3 tablespoons of oil. Using a 1/4 cup measuring cup, scoop out some of the potato mixture and drop into the frying pan. Flatten the pancake with a spatula, and fry for three minutes on each side, pressing down a bit so they brown better.
Cook the pancakes in batches and then transfer cooked pancakes to the warm oven until serving.