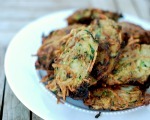 Prep: 10 min
Cook Time: 15 min
Total: 25 min
Serving: Serves 8 people
Anytime Zucchini Pancakes taste great served morning, noon or night. Serve garnished with sour cream or salsa.
Ingredients
3 cups of grated zucchini (2-3 small zucchini)
1/2 teaspoon of salt
3 tablespoons of fresh parsley, minced
1/2 teaspoon of garlic powder
3/4 cup of grated parmesan cheese
1 egg
1 cup of flour
1/4 teaspoon of baking powder
Pepper to taste
Sour cream as garnish
Directions
Combine the zucchini, salt, parsley, garlic powder, cheese, egg, flour, baking powder and pepper. Mix to make a thin batter.
Drop by spoonful onto an oiled griddle or skillet. Cook until brown on the bottom. Turn and cook for another minute. Serve and garnish with sour cream or salsa.