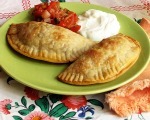 Prep: 10 min
Cook Time: 15 min
Total: 25 min
Serving: Serves 3 people
A tasty appetizer that is easy to make, Anything-Goes Empanadas can be filled with just about anything you'd like.
Ingredients
2 tablespoons of olive oil
1 package of refrigerated pizza dough (about 1 pound)
Flour for your work surface
1, 16-ounce can of refried beans
1, 1-pint container of fresh salsa
1, 8-ounce package of shredded cheddar cheese
Sour cream for garnishing
Directions
Preheat your oven to 400 degrees. Spread 1 tablespoon of the oil on a baking sheet. Divide the dough into 6 equal portions and roll each into an 8-inch round on a lightly floured surface.
On half of each round, spread some of your refried beans (or whatever fillings you're using), then top them with 1-1/2 tablespoons of the salsa and 2 tablespoons of the cheddar cheese.
Fold over the other half of each round, cover the filling and press down on the curved part of the dough with your thumb to seal it closed.
Lightly brush the tops of the empanadas with the remaining oil and place them on the baking sheet.
Bake until golden (about 12-15 minutes). Serve with sour cream as your garnish.