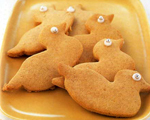 Prep: 30 min
Cook Time: 12 min
Total: 42 min
Serving: About 18 cookies
Instead of buying store-bought versions of these cookies, try making them from scratch. Better yet, have your kids join in and shape their own cookies!
Ingredients
1/2 cup granulated sugar
1/2 cup packed brown sugar
1/2 cup butter or margarine, softened
1 teaspoon vanilla
1 egg
2 cups all-purpose flour
1 teaspoon baking powder
1/2 teaspoon salt
1/2 teaspoon ground cinnamon
Directions
Preheat oven to 350 degrees.
In a large bowl, beat the sugars, butter, vanilla and egg with an electric mixer on medium speed or alternatively mix with a spoon.
Add the remaining ingredients to the bowl and mix well.
On an ungreased cookie sheet, take 2 tablespoons of the dough and shape into a round ball; flatten it with your hand. Use the cookie cutter of your choice to cut the dough into the desired shape. Alternatively, let kids design their own shapes by providing them with two tablespoons of dough at a time.
Bake cookies for 10 to 12 minutes or until edges are golden brown. Remove from oven and cookie sheet and cool on wire rack.