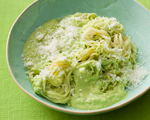 Prep: 10 min
Cook Time: 5 min
Total: 15 min
Serving: 6 Servings
The extremely elegant and delicate texture of angel hair pasta is combined with a creamy and nutty almond pesto in this 15-minute dinner dish.
Ingredients
2 garlic cloves, minced
1 teaspoon salt
1/2 teaspoon pepper
2 cups flat-leaf parsley leaves (from 1 bunch)
2 cups finely grated Parmigiano-Reggiano (1 cup)
1/3 cup slivered almonds
1 tablespoon fresh lemon juice
1/2 cup extra-virgin olive oil
1 pound dried capellini pasta
Directions
Cook the pasta according to package directions, drain (reserving 1/2 cup of the pasta liquid) and place back into the pot.
In the meantime, place the garlic, parsley, cheese, almonds, lemon juice, 1 teaspoon salt, and 1/2 teaspoon pepper in a food processor and process until finely chopped. With the processor motor running, slowly pour the oil down the flute of the machine and continue to blend until thoroughly emulsified.
Add the pesto and the reserved pasta liquid to the hot, cooked pasta and toss to combine. Serve immediately with additional cheese.