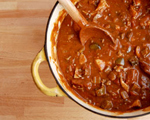 Prep: 20 min
Cook Time: 50 min
Total: 1 hr 10 min
Serving: Serves 4-6
Andouille sausage, sometimes referred to as "hot link" sausage, is a spicy, heavily smoked pork sausage mostly associated with Cajun cooking. If you can't find it in your area, make this recipe with Spanish chorizo or any other spicy sausage.
Ingredients
1/2 cup olive oil
1/2 cup all-purpose flour
1 small cup onion, minced
1 small green bell pepper, minced
2 stalks celery, minced
1 quart chicken stock
2 bay leaves
1/2 pound shrimp, peeled, deveined, and cut into 1/2-inch dice
1/4 pound andouille sausage, cut into 1/2-inch-thick rounds
1/2 pound fresh okra, trimmed and cut into 1/2-inch-thick rounds
1/2 teaspoon salt
1/2 teaspoon cayenne pepper
1/4 teaspoon freshly ground black pepper
Tabasco sauce to taste
4 cups cooked white rice
Directions
Heat the olive oil in a large stock pot over medium-high heat and sprinkle in the flour. Lower heat to medium-low and whisk flour for about 10 minutes. Flour will turn dark brown.
Add the onion, pepper and celery and cook vegetables for about 3 minutes. Slowly pour in the stock, whisking continuously, and raise the heat to medium-high. When the mixture begins to simmer, reduce heat to low and simmer, uncovered, for about 20 minutes.
Drop in the bay leaves, shrimp, sausage and okra and continue to simmer for 15 additional minutes.
Remove the bay leaf and sprinkle in the salt and the black and cayenne pepper. Add a few drops of Tabasco sauce to taste. Mix well.
Spoon the rice into four bowls, and then ladle the gumbo on top. Serve immediately.