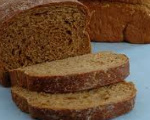 Prep: 2 hr
Cook Time: 35 min
Total: 2 hr 35 min
Serving: 2 loaves
Traditional New England Anadama bread is a dark, slightly sweet bread that is perfect for sandwiches or with soup.
Ingredients
5-1/2 to 6-1/2 cups sifted flour
2-1/2 teaspoons salt
1 cup yellow cornmeal
1/4 cup butter
2 cups warm water
1/2 cup molasses (room temperature)
2 packages yeast
Directions
Preheat the oven to 375 degrees F.
Mix 2-1/2 cups of the flour with the salt, cornmeal, yeast and softened butter in a large bowl. Slowly add the warm water and molasses to the dry ingredients. Beat for two minutes on medium speed, or 300 hand strokes.
Add in 1/2 cup flour and beat for another two minutes. Stir in more flour to make a soft dough. Turn the dough out onto a floured board and knead until smooth and elastic.
Place the dough into a greased bowl, cover and allow to rise in a warm, draft-free area for one hour or until doubled. Punch down the dough and turn it onto a lightly floured board.
Divide the dough in half and form into two loaves. Place in greased nine-inch loaf pans. Cover each and allow to rise until doubled in a warm place, about 45 minutes.
Place in oven and bake for 35 minutes.