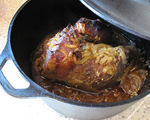 Prep: 15 min
Cook Time: 4 hr
Total: 4 hr 15 min
Serving: 6 Servings
Clean, simple flavors of oregano, garlic and bay leaves, accentuate the taste of this roast instead of masking it. Serve with a brown rice and vegetables drizzled with olive oil.
Ingredients
3 pound pot roast, trimmed of fat
1 tablespoon olive oil
1/4 cup soy sauce
1 cup brewed coffee
2 bay leaves
3 cloves garlic, minced
1/2 teaspoon oregano
Directions
Preheat the oven to 300 degrees.
In a Dutch oven or large sauté pan, heat the olive oil and sear meet on both sides; set meat aside.
Add the soy sauce, coffee, bay leaves, garlic, oregano and onion to the Dutch oven, and mix well.
Return the roast to the pot and coat with the seasoning mixture.
Cover and bake in oven for about 3-1/2 to 4 hours, basting every hour with pan juices. If there is not enough liquid to baste, add more coffee and soy sauce.