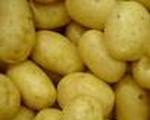 Prep: 25 min
Cook Time: 1 hr
Total: 1 hr 25 min
Serving: 6
Amish Potatoes make a great side dish.
Ingredients
3 medium potatoes, peeled and diced
1/4 cup milk
1/2 teaspoon salt
1/2 cup butter, cut into 1/4 inch pieces
1/2 cup onion, chopped
2 cups white bread, cubed
2 eggs, slightly beaten
1/4 cup parsley, chopped
1 tablespoon butter, melted
1 tablespoon butter for greasing casserole dish
Directions
Cook potatoes in boiling water until tender. Drain and mash. Add milk and salt.
Melt butter in large skillet and saute onions until transparent. Add to the mashed potatoes.
Add 1 tablespoon butter to the skillet and saute bread cubes until brown and golden. Add to mashed potatoes. Mix in the eggs and beat mixture for 3 minutes.
Grease casserole dish with butter and pour in potato mixture. Pour 1 tablespoon melted butter on top.
Bake at 350 degrees F for 35 minutes. Sprinkle with parsley.