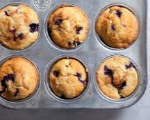 Prep: 10 min
Cook Time: 24 min
Total: 34 min
Serving: 10 muffins
Perfect breakfast or brunch choice,blueberry muffins packed full of juicy blueberries.
Ingredients
1 1/2 cups all-purpose flour
1 tablespoon baking powder
1/2 teaspoon salt
1/4 cup sugar
4 tablespoons (1/2 stick) unsalted butter, melted and cooled
1 large egg, beaten
3/4 cup plus 2 tablespoons milk
1 cup blueberries
Directions
Preheat oven to 400 degrees Fahrenheit. Spray 10 muffin cups on muffin pan with nonstick cooking spray or line them with muffin cups. Fill the remaining empty cups halfway with water.
Sift the flour, salt, and baking powder into a large mixing bowl. Mix in sugar. In another bowl, whisk together the egg, melted butter, and milk. Combine the wet and dry mixtures and whisk until slightly lumpy.
Stir in blueberries, just enough to combine.
Pour batter evenly among the 10 prepared muffin cups.
Bake until golden, approximately 18-24 minutes.
Remove muffins from pan and place on a wire rack to cool. For best results serve warm.